Dear Neighbors,
The Covid-19 pandemic has  launched us all into uncharted waters.  But, rest assured, our tenured, experienced staff is well prepared.  (And yes, we have plenty of toilet paper.)  In our 35+ years of providing care and services to this community, we have served as a shelter in all times of disaster and pride ourselves on our close relationships with local first responders.
The health and safety of our residents is our top priority.  We have been fortunate, so far, and have no residents, staff or family members (that we know of) with confirmed diagnoses of Covid-19.  We continue to work closely and diligently with State of Florida and local officials to ensure that all aspects of life at CountrySide Lakes are not only following, but exceeding, the federal, state, and local guidelines for prevention and containment.
We are blessed to have an amazing resident population.  The true sense of community is why so many of us call CountrySide Lakes home.  While social distancing is absolutely critical and probably our best line of defense against this virus, there is a difference between that and social isolation.  We have many esteemed residents who fall into the high risk / very high risk categories and, as such, have implemented heightened visitation procedures per the CDC and Governor DeSantis.  We appreciate the understanding and cooperation of all residents and your families.  Most importantly, please don't forget to use the technology we have at our disposal to continue to connect with loved ones during this period.
We'll update you regularly, as the situation evolves.  In the meantime, please utilize the CDC and other government websites listed here on this page.
In health,
Charlie Dierke
General Manager
September 8, 2020   |   Limited Visitation has Begun at CountrySide Lakes
Visitation is by appointment only and will be held in 30-minute increments to ensure all visitors are able to see their loved ones. You are permitted two visitors at a time and all visitors must be at least 18 years old. For your first visit, please arrive 10 minutes early to complete the screening process and review the policies and procedures. All visitors and residents will be required to wear a face mask during visitation. Visitors must provide their own mask. Sungaiters, bandanas, and scarves are not permitted.
We look forward to seeing you.
September 4, 2020   |   Visitation Coming Soon to CountrySide Lakes!
Stay tuned for details and have a wonderful Labor Day Weekend!
September 2, 2020   |   Limited Visitation Order Issued for Florida – Stay Tuned for Details and Dates
CountrySide Lakes continues to be a COVID-19 free community – something our staff has worked extremely hard to achieve, including adjusting their own lifestyles to prioritize keeping your loved ones safe.
As such, Governor DeSantis has advised as of last night that COVID-19-free communities are now able to open for visitation upon implementing certain additional policies and procedures.  Please note that if a positive COVID-19 case is brought to our community (even if unintentionally or asymptomatic), all visitation will stop for 14 days.
Check this blog regularly for the Rules of Visitation, as there may be certain items you need to watch and/or sign prior to your visiting our community.  We will advise via this blog when visitation commences.
April 1, 2020   |   "Stay at Home" Order Issued for Florida
Florida Governor Ron DeSantis issued a "stay at home" order for the entire state today as we face a rapidly growing Covid-19 outbreak.  The order goes into effect at midnight tonight and will stay in effect for 30-days.  It limits movement within the states and specifies that unless residents are pursuing "essential" services or activities, they should stay indoors.
Here at CountrySide Lakes, we are blessed that most essential services are provided for our residents here on site.  If family members wish to bring additional food or other treats during this time, you are welcome to do so and leave them with our screeners outside our front door.  They will be delivered to your loved ones right away.
For those who have an essential doctor appointment that can't be postponed, we are providing masks and gloves and are calling ahead and coordinating with the doctor's office to limit, if not eliminate, any waiting room time.
We have been utilizing telemedicine for all non-essential doctor appointments, and, thanks to relaxed regulations, can now even facilitate FaceTime with your particular doctor or specialist.
We appreciate your continued prayers and support during these unusual times.  On the bright side, it's a beautiful day here in Port Orange as we look out at our lake.  Thanks to all the many family members who continue to show their love and support!
March 18, 2020   |   Universal Use of Face Masks Implemented
CountrySide Lakes, per guidance from the CDC and Governor DeSantis, has implemented universal use of certain personal protective equipment (PPE).  All staff, essential visitors, and anyone entering the building must now wear a face mask at all times.  Additionally, gloves must be worn when providing direct care to a resident.
March 14, 2020   |   Only Essential Visitors Now Allowed into Building
CountrySide Lakes, per guidance from the CDC and Governor DeSanits, has stopped all non-essential visitation.  The examples below help to explain what this means for your family and loved ones.  As always, this is done for the health and well being of our residents.
Examples of essential visitors include:
Family members of residents who are in imminent end-of-life situations. Access in these cases will also be restricted to resident apartments only.
Vendors who provide essential services (pharmacy, food, supplies, maintenance, movers and healthcare providers including hospice and physical therapy)
Individual private duty aides / companions
Examples of non-essential visitors include:
Family members of residents not in imminent end-of-life situations
Entertainers
Salon service providers
Volunteers
March 11, 2020   |   Enhanced Temperature Screening Begins for all Staff and Visitors
CountrySide Lakes, per guidance from the CDC and Governor DeSantis, has implemented enhanced screening procedures of anyone entering the building, including all staff and family members of residents.  In addition to temperature scans, screen procedures include other known coronavirus symptoms, recent travel, and contact with anyone who meets these criteria.
Newsletter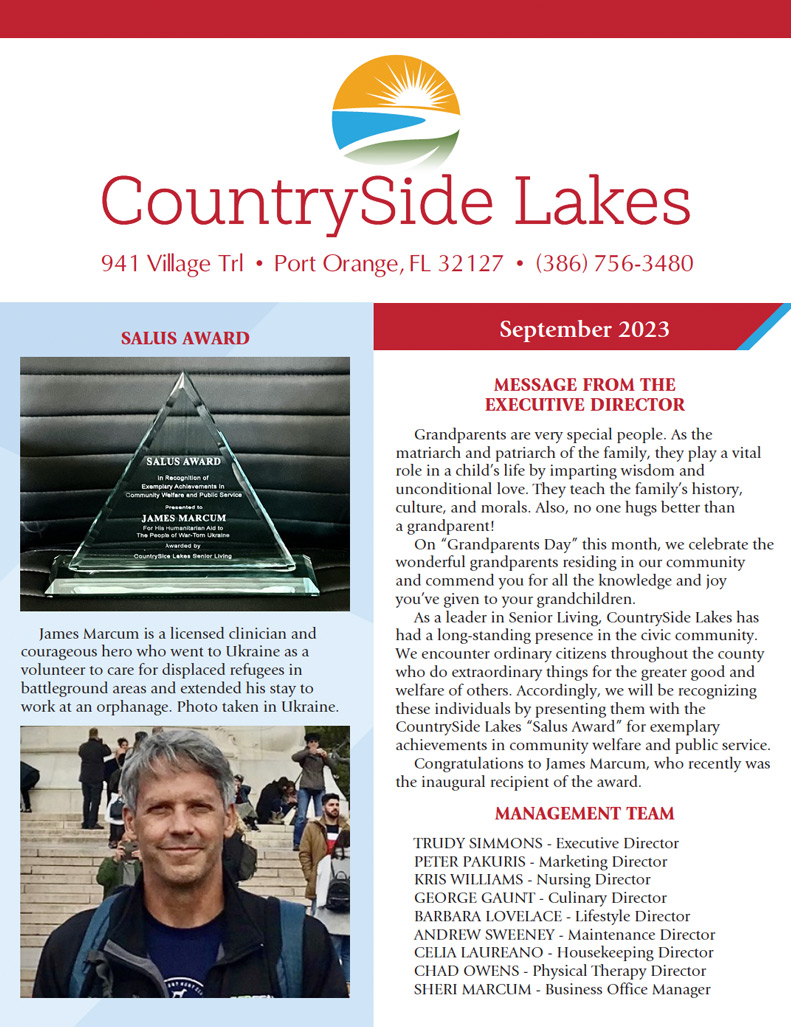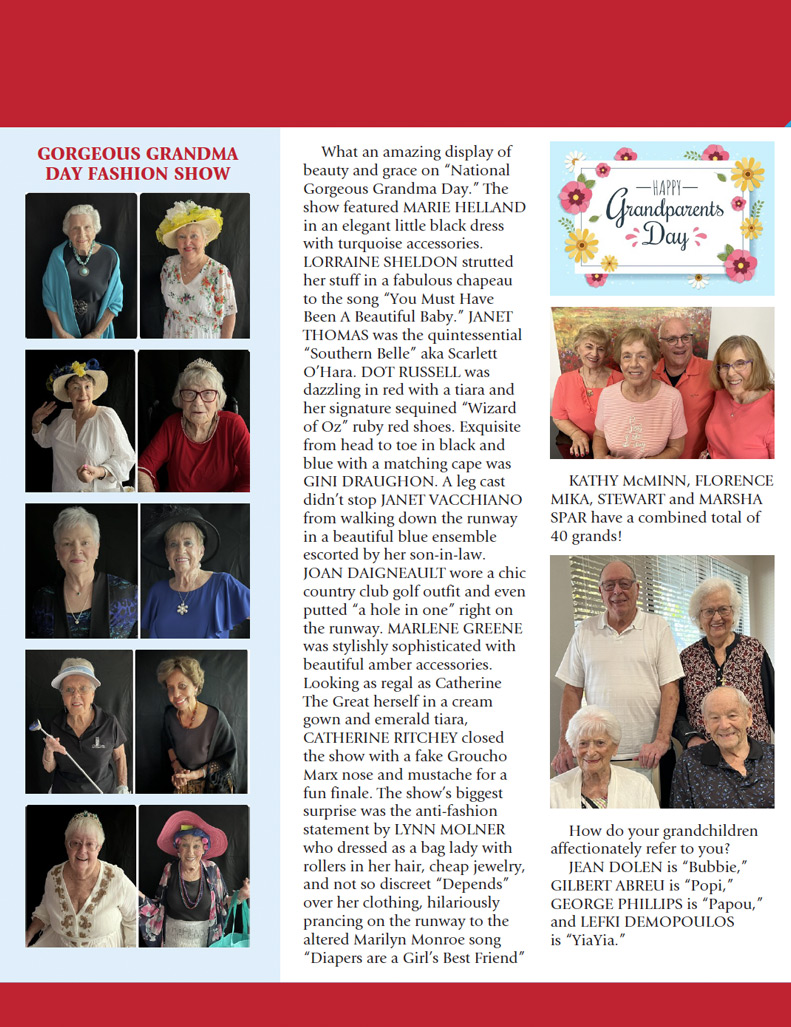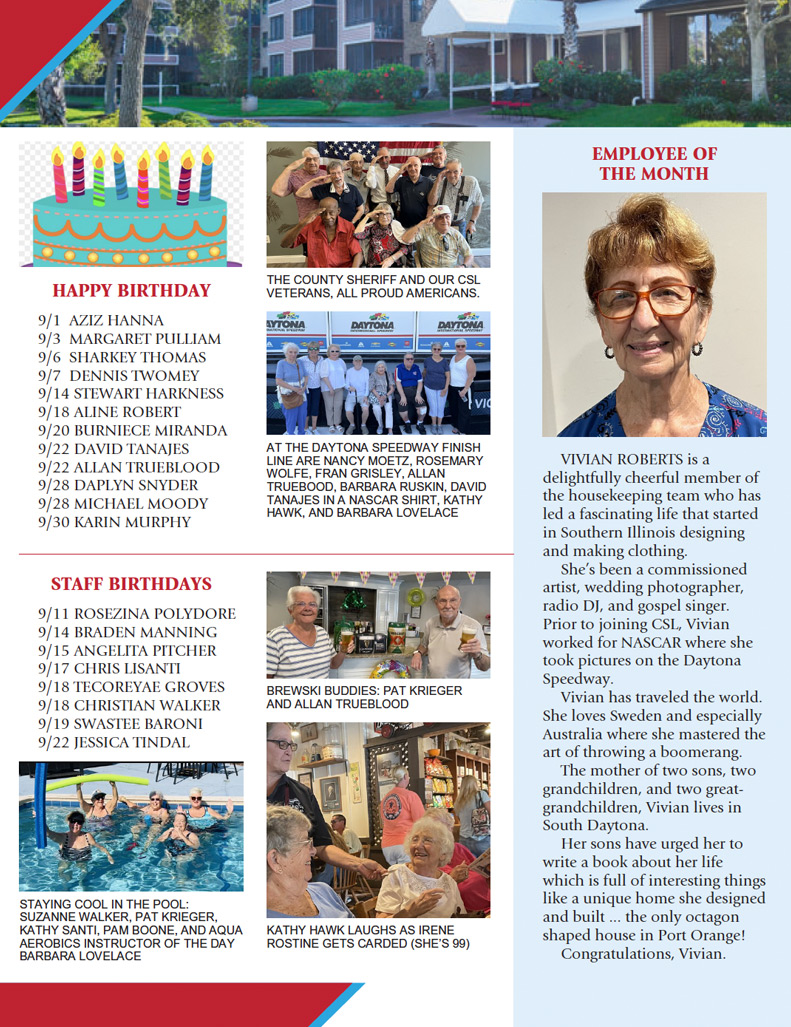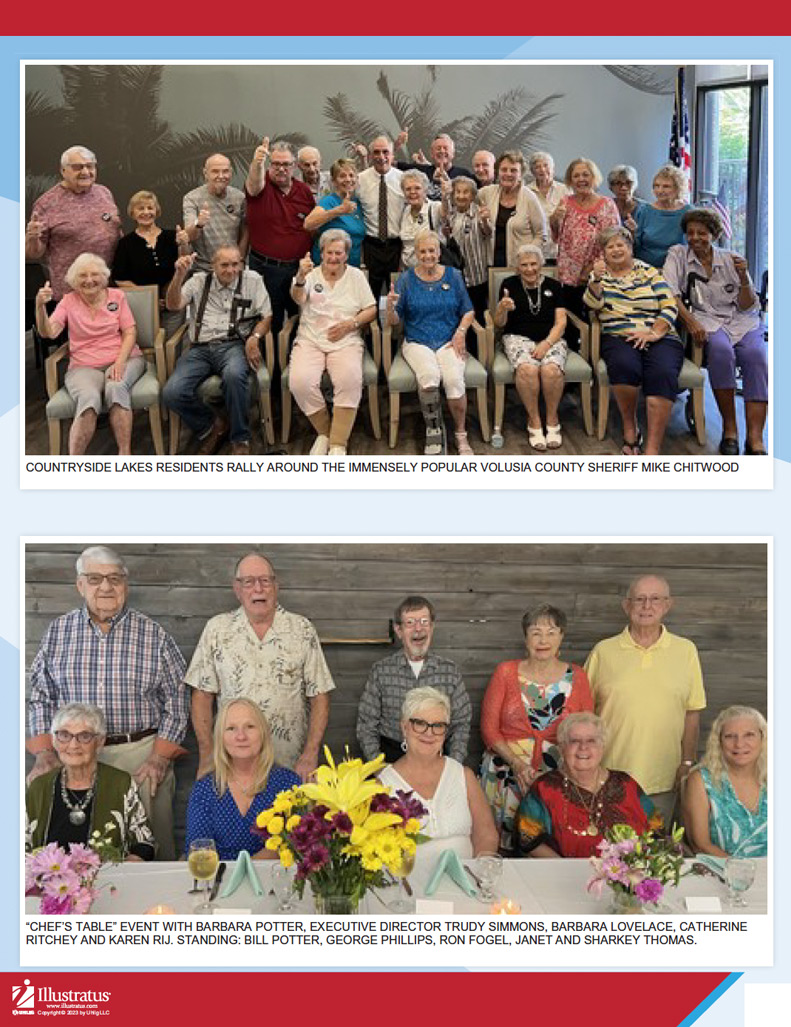 Miss one? Take a look through our previous newsletters.
Welcome to your happy (and healthy) place.